Investment Grade - 7.03ct Ruby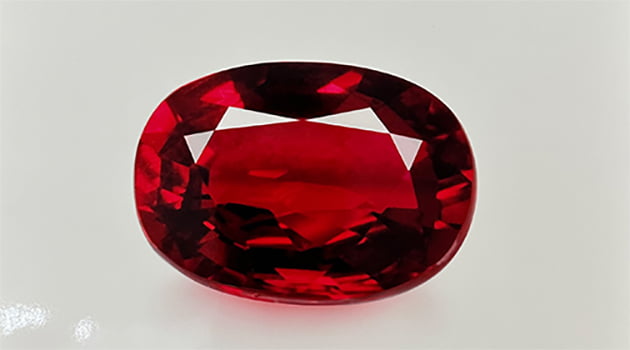 GRS Laboratories examined a 7.03 carat natural ruby that demonstrates very good characteristics worthy of a dedicated mention.
This important ruby is distinguished by a very rare combination of size, a fine vivid red color variety, very good brilliance and transparency, and well-balanced proportions.
Analytical and advanced testing traces the origin of this gemstone of the mines of Mozambique, the mining area currently producing the largest and most significant rubies. The fascinating internal world of classic Mozambian ruby inclusions can ve witnesses in this particular gemstone. At the time of testing, it was concluded that the gemstone was spared of thermal enhancement.
This vivid red Mozambique ruby is reminiscent in color saturation of "GRS-type pigeon's blood ruby" (without strong fluorescence).
The combination of very good attributes that this ruby displays was concluded to be important. The vivid red color radiates harmoniously in tone and color saturation.
Untreated rubies of such size and quality are very rare, giving it enormous potential for appreciation in the near to mid term.