Difference between natural diamonds and lab-grown diamonds?
The main difference between lab-grown diamonds and natural diamonds is their origin. Natural diamonds are formed deep beneath the earth's surface over billions of years under intense heat and intense pressure. Lab-grown diamonds on the other hand are created in a controlled laboratory environment using advanced technological processes in a matter of weeks.

Both natural diamonds and lab-grown diamonds have the same chemical, physical and optical properties as well as fire, scintillation and sparkle that make them attractive.
Can you tell the difference?
Even professional jewellers and gemologists cannot tell the difference between a lab-grown diamond and a natural diamond with the naked eye. However, when put under the microscope, natural diamond will show traces of inclusions only formed in the natural environment.
Lab-grown diamonds are generally cheaper than natural diamonds as they are mass-produced and perceived as less prestigious. On average, comparing same quality and same size diamonds, lab-grown ones can be 30% to 75% cheaper than natural diamonds. The ultimate market price is however subject to other factors such as the demand and supply at a particular point in time. There has been a surge in the popularity of lab-grown diamonds in recent years hence putting upward pressure on lab-grown diamond prices.
2. Difference in resale value
One of the reasons why lab-grown diamond doesn't have as high of a resale value is that the supply isn't limited. As technology advances, it will become easier and cheaper to create more and more lab-grown diamonds. They will never have the same rarity, uniqueness and meaning compared to natural diamonds that were formed over billions of years deep in the earth.

Most jewellers do not buy back lab-grown diamonds but you can sell them to a third party. The resale value of a lab-grown diamond is aprox. 30-40% less than what you paid and prices may fluctuate depending on market conditio
Do lab-grown diamonds come with a certificate?
Yes, lab-created diamonds can be certified much like the natural diamonds. The certificate can give you information on the 4Cs i.e. Cut, Clarity, Carat Weight, Color so that you can assess the quality of a diamond. Leading diamond grading laboratories like IGI, GIA, AGS and EGL all offer certification for both types of diamonds.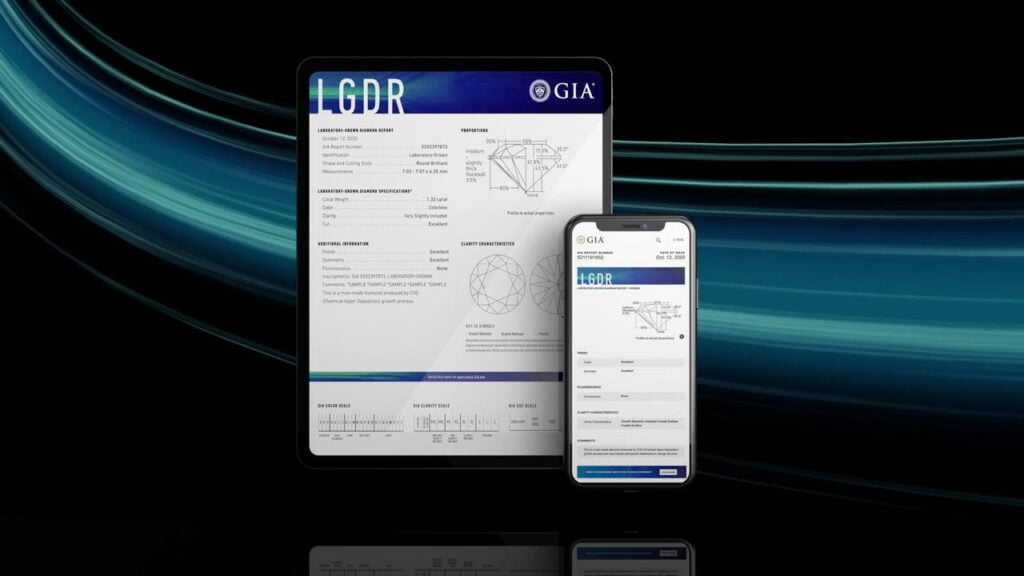 Are lab-grown diamonds better?
Yes: Lab-grown diamonds are ethical and conflict-free, a more cost-effective jewellery choice based on the selling price.

Tie: They are marketed as more environmentally friendly but diamond laboratory requires a lot of energy and is produced in low-wage countries that use non-renewable energy sources.

No: Lab-grown diamonds may turn brown over time and need to be decolorized.

Natural diamonds on the other hand have historically retained their value better compared with lab-grown diamonds. The allure of rare natural diamonds and their preciousness has been linked to true romance, making them desirable. They are however more expensive.

Ultimately, it comes down to your personal preferences and how you value different aspects.
Where do lab-grown diamonds come from?
China produces more than half of world's gem-quality lab-grown diamonds, India comes second. Many lab-grown diamonds, especially the larger ones have an inscription on their girdle that identifies them as lab-made.